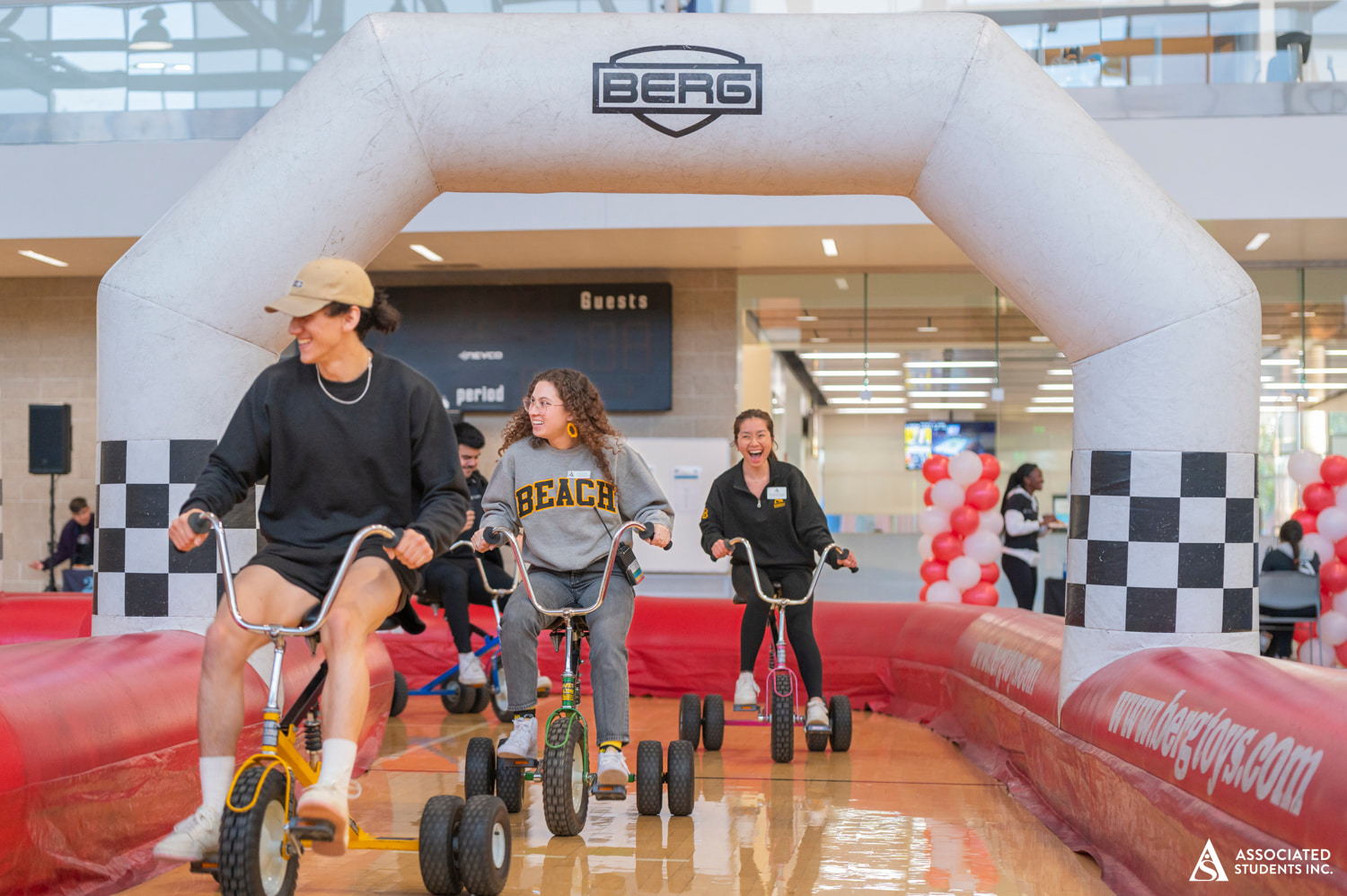 Welcome to the Student Recreation & Wellness Center! Or as we fondly refer to it, the SRWC.
We're excited to have you as a member of our award winning program and facility. Normally, joining a new fitness center can seem a bit confusing and impersonal. But here at the SRWC we don't consider you simply a member of our fitness center – you joined a recreation and wellness center. We pride ourselves in serving our guest's mind, body and spirit. Whether its fitness classes, personal training, rock wall climbing, open recreation, or swimming, the SRWC has something for everyone.
Here are some essential pieces of information you should know to get you started:
Events and Programs
Group fitness and instructional fitness classes are a great way to get involved at the SRWC and try something new. Check out our 'CALENDAR' tab on the website to see what classes we offer per day. Whether it is Butts & Gutts or Yoga, there is something for you!
Looking to join a team sport? Our Intramural Leagues offer 12 different leagues in 7 sports ranging from Basketball to Badminton. Don't have a team? Not a problem! Free agents can sign up for just a $20 fee.
Not knowing where to start at the SRWC? Then a free fitness orientation and assessment is a great start! Stop by the fitness desk to sign up with one of our personal trainer today.
Or wanting an opportunity to relax? Our Beach Balance center has 2 licensed massage therapists on staff to offer a wide array of massage services for an additional fee.
Food & Drink
Water is allowed throughout the facility. Other food and drink items are not allowed unless in our designated eating areas, which include the lobby and pool deck areas.
Locker Rooms
Most lockers are free of charge and are available on a first come first serve basis. While most of the lockers are located in the locker rooms, you will conveniently find other small-item lockers located throughout the hallways for your wallets, phones and keys.
To use the lockers, first check to make sure your selected locker is open and empty.
Once you found your perfect locker, place your items inside and close it completely.
On the key pad you will need to hit the "c" button followed by your personal 4-digit code that you create yourself for each use. After entering the 4-digit code, press the key symbol to lock your locker. Check to make sure it's securely locked.
To retrieve your items, simply repeat the steps to enter your code and the locker will unlock. If you have difficulties opening your locker, please notify the intramurals desk or the front desk, both located on the first floor of the SRWC.
Showers are equipped with body soap are located in the back of both the men's and women's locker rooms.
Swimsuit dryers are located next to the showers in each locker room. Simply place your wet swimsuit inside the dryer and push down the lid. The machine spins all of the water out of your swim suit!
Scales are located in the back of both the men's and women's locker rooms for privacy and convenience.
Towels
Towel Service is available for all SRWC members. We have small fitness towels are available for $10 per semester. Pool towels are available for $20 per semester. There is also the option to purchase a combo service for $25 per semester.
Guest Passes
You are allowed two guest passes per day. A member can sponsor their guest(s) for $10. The guest must have a valid ID with a picture and birthdate to prove that the member is at least 18 years of age. The guest will not be allowed to purchase a pass without an ID. The member and guest must stay together at all times inside the facility. If the member leaves the facility the guest must also exit the facility. The guest pass is valid for the entire day, therefore if they guest would like to come back the same day with the member they only need to show their receipt.
A member may purchase up to five spectator passes for $5 each to bring guests into the facility to watch an event or game.
Clean and Green
Hand sanitizer is available throughout the facility as well as in the restrooms and locker rooms.
Eco-friendly cleaning products are offered throughout the facility. Though we routinely wipe down the fitness equipment, we ask that you please wipe down the fitness equipment before and after you use it.
Please note that when joining in activities at the SRWC, physical extrusion can occur. Please consult with your physician if you have any concerns about engaging in such activities before you start active use of the SRWC.