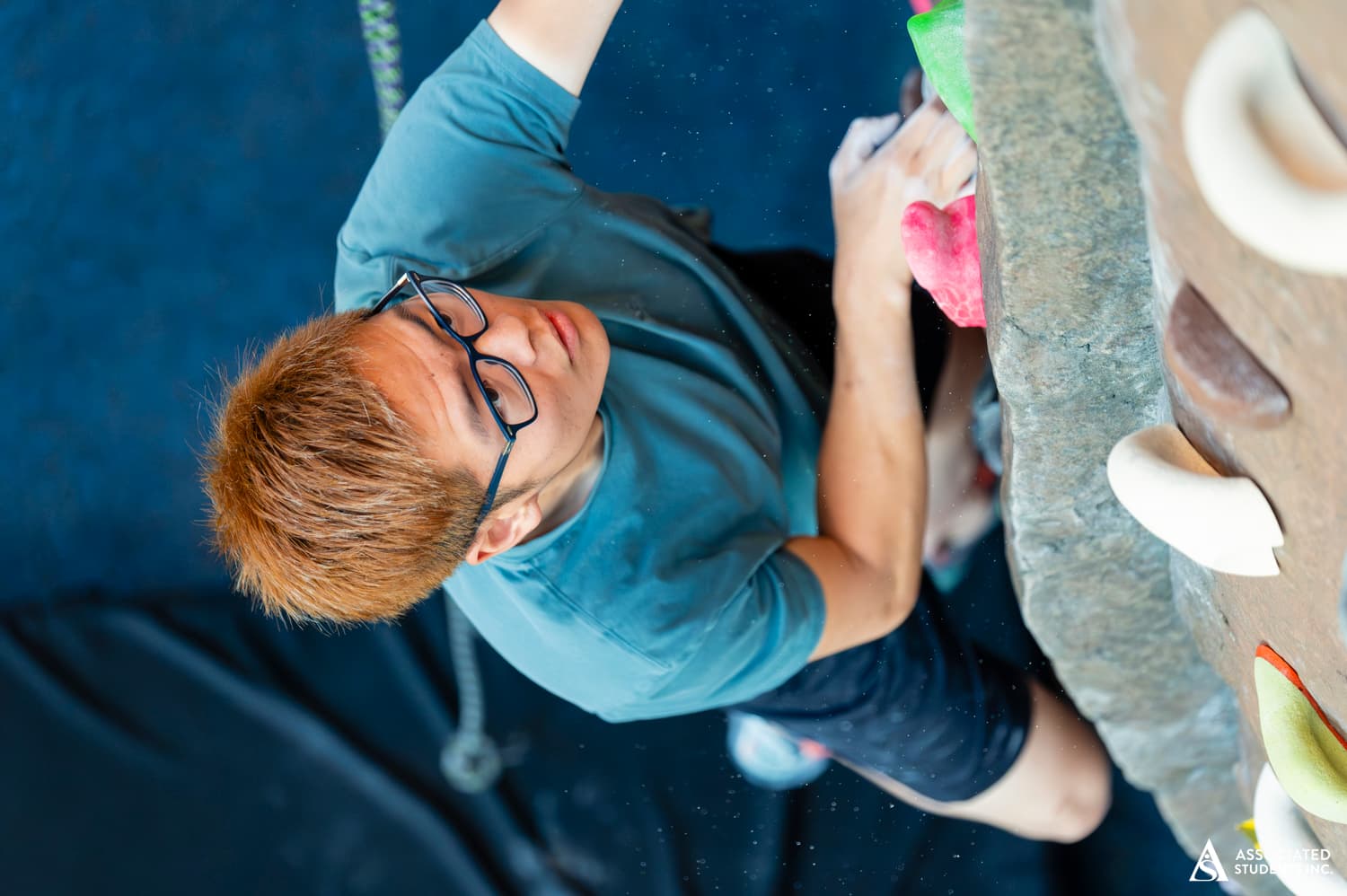 One of the most unique features in the SRWC is the custom-designed, 25-foot-high rock-climbing wall. Members will be able to climb up and around the large rock, tackling fears and reaching new heights. We offer top rope climbing, bouldering and lead climbing to climbers who have passed a skills test and are qualified for lead climbing. Climbing is a very active and ever-evolving sport. Technique and climbing style will vary on an individual basis. New routes are made routinely. The Rock Wall Facilitators are equipped to assist you with your climbing needs. We supply equipment for FREE, such as climbing harnesses, chalk bags, belay devices, climbing shoes and lead ropes.
Belay services are offered during all open climbing wall hours. Technical climbing instruction can be received from a staff member during open hours or during Friday Climbing Classes.
Rock Wall / Outdoor Shop Semester Hours
| Days | Times |
| --- | --- |
| Monday - Thursday | 3 p.m. - 10 p.m. |
| Friday | 3 p.m. - 8:30 p.m. |
| Saturday & Sunday | 12 p.m. - 5 p.m. |
Rent the Rock wall
Would your friends, organization or corporate group like to have the SRWC climbing wall all to yourself? Our Rock Wall is available for rent. Student groups must register in person at the SRWC's administration desk.
All other groups can register at the SRWC or by calling
(562) 985-0785
. The Rockwall is rented in three-hour time segments with additional hours available.
Students
3 hours or less: $0
Additional hours: $0
Staff Fees: $24 per member*
University Faculty and Staff
3 hours or less: $90
Additional hours: $30
Staff Fees: $29 per member*
Off Campus Groups
3 hours or less: $120
Additional hours: $40
Staff Fees: $37 per member*
* Staffing fees are in addition to the wall rental. The Rock and Outdoor Adventure Staff will assist your group in all their rock climbing needs, including equipment and instruction if requested.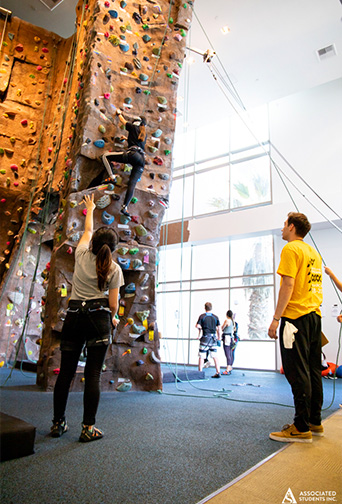 Every climber must have a signed waiver with the Student Recreation & Wellness Center and check in with the Rock Wall Staff prior to climbing.
Staff has the right to check your personal climbing equipment for safety concerns.
Food and drink are prohibited at the Rock Wall (with the exception of bottled water)
In order to top rope belay, climbers must pass a Top Rope Safety Belay Test on their subsequent visit through the SRWC Rock Wall and have their belay card visible.
In order to lead belay and lead climb, climbers must pass a Lead Belay Test through the SRWC Rock Wall and have their lead belay card visible.
Belay tests will be conducted using only tube-style belay device. Climbers that are belay certified may use tube-style belay devices and assisted-braking belay devices if proficiency is shown.
Do not swing or pull on any ropes.
Do not climb above or below another fellow climber.
Never place fingers, hands, or feet on the metal bolt hangers.
Never climb past or unclip the top climbing anchors.
Belayers must remain standing while the climber is on belay.
Every climber must tie-in with a figure-eight follow-through with at least six inches of tail.
Use chalk sparingly and be courteous to others around you.
Climbers should be aware of pendulum swings while climbing on rope.
Only staff is authorized to set routes with holds and perform maintenance on the Rock Wall.
Climbers may set routes using tape during Rock Wall hours of operation.
Be respectful and courteous to Staff and fellow climbers.
SRWC staff reserve the right to remove participants from the Rock Wall at their discretion and enforce safety policies.
Rock Wall policies and procedures may occasionally be updated based on industry standards. Please take notice when they do, as they will be posted.
Unsafe climbing practices are not permitted.
All participants will provide proper care of all equipment.
Participants must avoid blocking the emergency exit doors with belongings or equipment.

ADDITIONAL BOULDERING POLICIES

Bouldering above the 14 feet boulder line is prohibited.
Do not boulder under or over another climber.
Always keep personal gear away from the landing area.
Crash pads and trained spotters are recommended; however, climbers are responsible for ensuring their own safety while bouldering.
Be aware of other climbers and bystanders nearby when performing any dynamic movements.

DRESS CODE POLICIES

Participants must wear clothing that provides a barrier between bare skin and any rental equipment (includes stomach, lower back, legs, feet, etc.)
Climbing barefoot is prohibited. Non-marking closed toed and closed heeled shoes are required.
Pockets must be emptied, and jewelry removed to prevent potential injury or damage to equipment.
Participants should avoid wearing climbing shoes or harnesses into restrooms to maintain hygiene.
Participants are encouraged to tie back any hair that extends beyond shoulder length.

*Updated 03/2023